Iconic leather bags – There are many beautigul movies that have amazing female characters that keep us inspired. Their style, grace, clothes and bags (which are often not even remotely given the credit thet they deserve). Therefore, we will try to make up for this and show you the most iconic bags in movies.
Iconic leather bags – Prada logo handbag / The Devil Wears Prada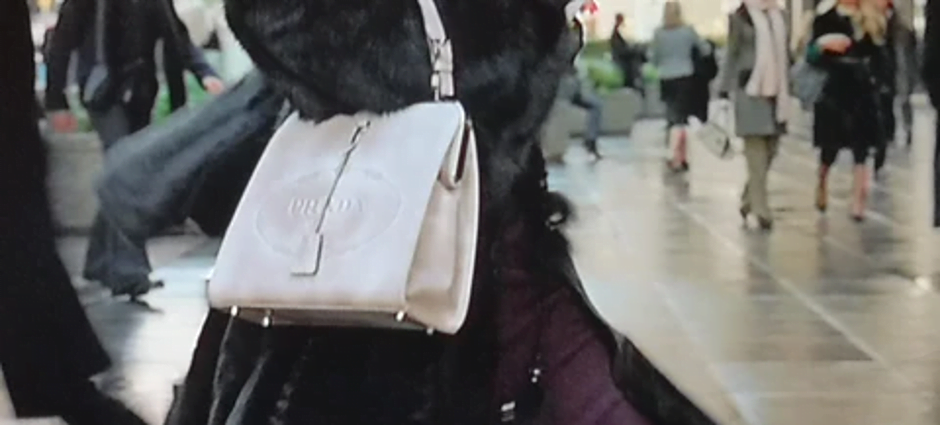 We all loved and hated Miranda Priestly from this movie. She is cold, arrogant and always perfect from her hair style all the way to her shoes. In the world of fashion, she reigns as the shark. She means business. Her silver Prada bag with elegant lines is both modern and classic. It is large enough to fit all the things she can't trust to give to her assistants, but is not bulky. The bag is just perfect and is embodiment of Miranda herself. 
Cherry Intrecciato handbag / Legally Blonde
You just have to love Elle Wood no matter how much she annoys you. Once that this miss-has-it-all becomes a laughing stock of the campus and starts fighting back and overcoming her limitations while keeping true to herself – you find yourself cheering for her. 
That is why this authentic bag is also important. It shows her wealth and kindness since she carries her dog Bruiser in it. The bag is fabulous, distinctive and spacious enough for the things that are of a great value to her – her dog, laptop, books, notes and crazy pens. There is more to the bag than you would say at the first glimpse, just it's owner. 
Iconic leather bags – Vivian's leather bag / Pretty woman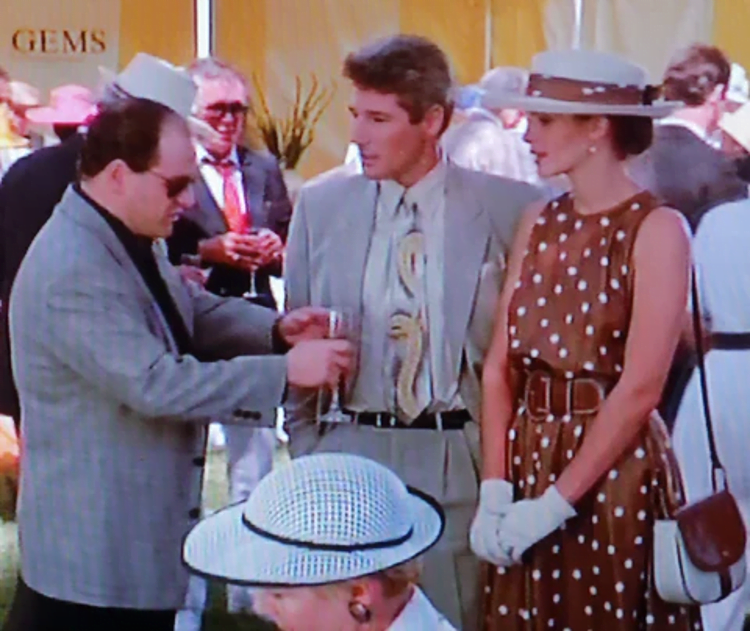 This bag is more than just a beautiful shoulder cream bag with a long strap and a brown leather flap. It represents the transformation of the main character from a lady of easy morals to a real high class lady. This transformation is so dramatic due to her past, her bahavior, clothes and huge cheap bag that is just like her life – full of things that don't belong there, have no real use. In two words –  higly chaotic.  The new bag is sofisticated, neat, and it matches her perfect polka dot dress. It represents her new personality, sofisticated style, and behavior that is reserved for the real ladies. You just have to love this embodiment of her new personality in this perfect leather bag.
Black beaded handbag with a few extra features in Mr. and Mrs. Smith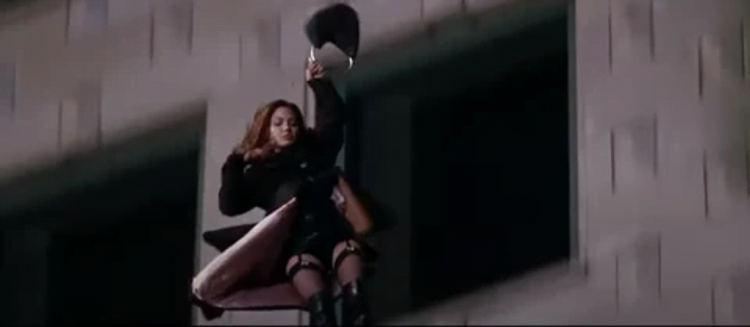 It took us many viewing of this movie to figure out that this black, elegant, medium/sized beaded handbag with the large circular handles is actually a secret weapon. Disguised behind this perfect bag is a grappling hook. This bag is here to represent that behind one beautiful thing there often is something cunningly hidden that could hurt someone. 
Iconic leather bags – Cher's mini rucksack from Clueless
Clueless is not just another teenage comedy. Cher is a girl who has it all. She is beautiful, popular, has a closet full of clothes and a superb bag collection. You can see her matching same purses with different outfits throughout the movie. Her black mini rucksack makes several appearances. Beside this one, one of the most iconic backpacks from this movies is white Collie mini backpack "It's Faux!". Not only that this bag represents the main character's change, and her acceptance that she was a faux. While she has many, at first glance, different bags that show her as superficial teenager, by the end of the movie she proves that she is much more than that. She is a smart young lady with a sense of fashion.
Carrie Bradshaw's Louis Vuitton bag from Sex and the City movie
This bag has been a topic of conversation among fans of this series and a movie, since it came out in 2008. It is made of monogramed motard velvet and patent leather with contrast stitching. A couple of candy resin stones are added to fulfill the exterior. The inside is made of luxurious silk lining. Many people say that the bag has too much details, and lacks that something special, but, just like the main character Carrie, with the right outfit is a bit different, special, not adapted. Like a new artistic kid in a senior year of new high school.  This bag is, actually, so original that you have to be mature enough to be able to enjoy yourself in situations that are outside the box. 
These are just some of the iconic movie bags. Tell us what you think in the commenting section about these bags, or those that you think should be feature.
Be strong. Extravagant. One of a kind.
Your UniUkiyo