Fall Fashion – Fall is almost here and what should you take from your closet? Every leather piece you have! Yup, It's already that time of year…
There is something so cool and sexy about this fabric, maybe because the first person who wore it was Marlon Brandon in The Wild One (he wore a leather jacket). Brando's character in the movie was a dangerous yet sexy gang member who had a great dressing sense. Hmmm, wonder why?
Although true fans wear it even when it's warm, the cool weather brings opportunities for some new and different leather pieces.
Fall Fashion – Leather Trench Coat
Trench coats have always been the first sign of autumn, and this time designers replaced cotton-gabardine for leather – a real blast from the 90s. Judging by the trend from 2021 when many celebrities were happy to wear leather coats, we would say that this trend will continue in the fall/winter of 2022.
You can combine it with white sneakers and jeans for a daily outfit, or with high heels and dresses for the night. If you need inspiration, you can always steal the look of celebrities. And good news for those who want to take all the attention wherever they go is that we spotted a pink leather coat in Prada's 22/23 collection. Leather doesn't have to be black!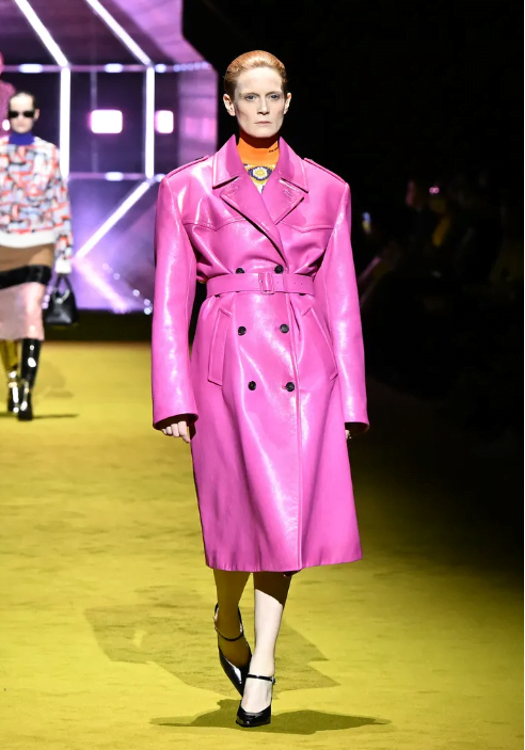 Prada pink leather trench coat, photo: Gorunway.com
Leather Pants
Leather pants are always in style. Thanks to their shiny texture it creates a luxurious and sexy look. Cooler weather is the perfect time to get that attractive piece out of the closet. We love them for their ability to adapt to every look: you can wear leather trousers for a casual outfit, leather leggings for a sexy look, and pants when you want to look attractive and trendy. You can wear them even for work. The trick is choosing the right fit and cut – properly fitted, dark, matte leather pants in a straight leg are the most work appropriate.
Fall Fashion – Leather Bag
If you want a bag that will last forever you should choose a leather bag. There are so many sizes, styles, colors, and shapes. Sometimes it is hard to choose only one (or 2,3,5…how many bags does one woman really need?!) we know that. That is why we created one unique bag that can match different outfits.
You can wear it with sneakers, flip-flops, or high heels. And the best part is that you can put inside everything you need. Beautiful and practical at the same time.
Ankle Boots
There are various types of ankle boots, starting from a high-heeled, wedge, flat and block-heeled. Ankle boots will never go out of style because everyone can find a perfect pair for their body type. They are a great choice for a casual daily look, but you can wear them to parties too. Some styles are appropriate for offices. The 2022 trend is bare ankles – all you have to do is to leave some naked space between your pants and boots!
Fall Fashion – Leather Skirts
A leather skirt is a great go-to piece when you are not in the mood for jeans or pants. Leather skirts will instantly elevate any outfit. So feel free to wear them this fall. You can combine it with shirts, blouses or cardigans, whatever you want. If you want an all-leather look, wear them with leather jackets or trench coats.
What is your favorite leather piece this Fall 2022?