Significant bag - the sign of success
Exclusive bag for woman and man
This bag is for the different ones. The people who are unique. The ones that need just a bit more truly express themselves. The ones who see life from a different angle.
The people who are Bold, Extravagant. One of a kind.
Try wearing your bag like a jacket!
This is one of the reasons why this bag is so unique. At first glance, it looks like a leather jacket, but the function and design are significantly more. It serves multiple purposes. It's a bag, backpack and a jacket all in one, making it the perfect accessory for any urban outfit. This bag is ideal for anyone who enjoys experimenting with fashion trends.
Make it bigger with a zipper
This exclusive bag model offers more versatility with its zipper. You can choose to open it and change up your style, or make the bag wider to wear over a shirt or sweater during the winter months. Additionally, the zipper can be used to make a bold fashion statement.
Make difference in your own style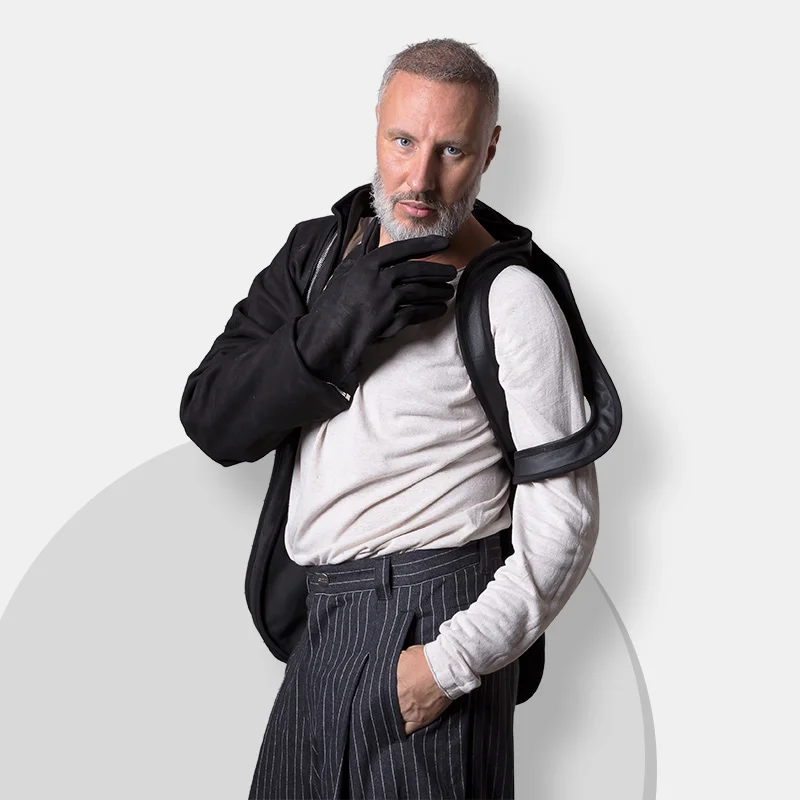 This versatile bag/jacket can enhance your entire outfit. It comes with a hood, sleeves, and gloves. You can customize it with zippers to fit your preferences. If you want to wear it as a vest, simply remove the sleeves using the zippers. The sleeves also have zippers to attach or detach the gloves. Similarly, the hood can be attached or removed using a zipper located on top of the bag. The hood is a timeless trend, especially in modern times. The decision is yours, but this distinctive item is sure to make you stand out from the crowd!
Whatever way you choose to wear, it will bring out and show the best of you – your style, grace and class- making sure that everybody knows just how special and free spirited you are.
This bag will be your trustful and reliable companion throughout your everyday journey, whether you are a digital nomad living all over the world, daredevil going from one exciting adventure to the next, or if you prefer a steady job speckled with lavish traveling arrangements on exotic destinations.
Let your Excluzive UniUkiyo bag remind you how to treat life – with your hands free, squeezing the best out of it, and on top of everything feel so cozy.
Piece of Art delivered to you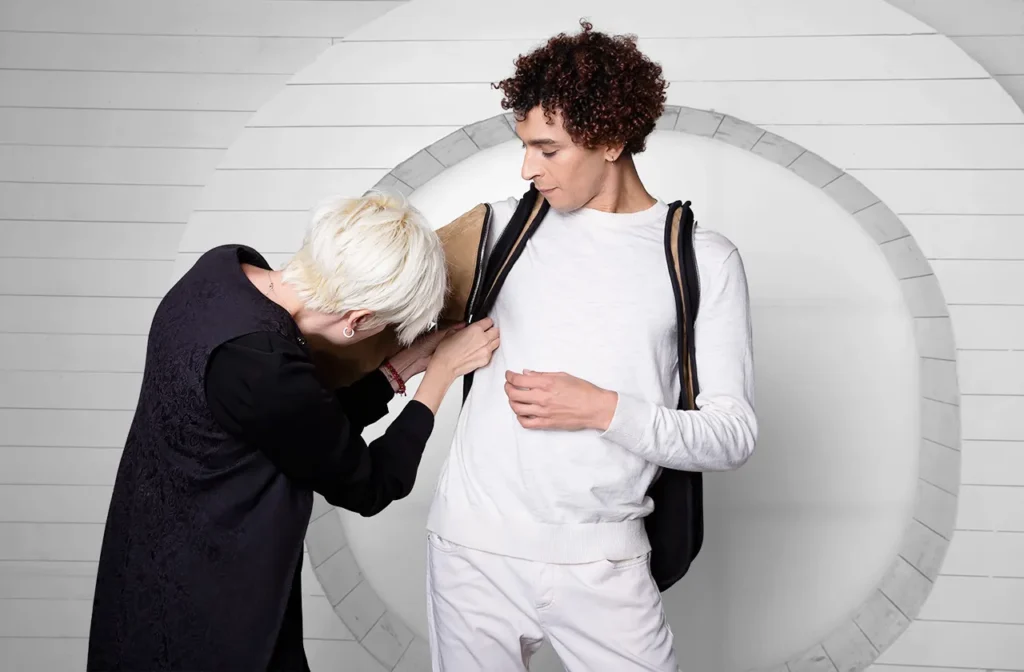 Your Exclusive UniUkiyo bag comes in a reusable handmade canvas bag all packed inside a strong brand box.
We want to be sure that your new bag will be delivered as safely as possible.
We believe that giving love is the essence of life, therefore with each UniUkiyo bag you are presented with a gift – A handmade leather heart keychain pendant that complements your UniUkiyo bag.
Sincerely,
Marina Micanovic
Pre Order Exclusive Uniukyio Product
We are thrilled to introduce a unique product – a custom-made jacket/bag. This exclusive handmade item is exceptional due to its outstanding design and top-quality craftsmanship. It is a versatile bag that allows you to transform it into a jacket or a vest, making it an ideal accessory to complement any outfit. Besides its visually appealing look, it is also highly functional and practical. You can easily carry your essentials, and it fits perfectly with any style.
In order to create a bag that meets your expectations, we would like to have a consultation with you. During this consultation, you will speak directly with the designer and discuss all the necessary details such as measurements and preferred colors. This will ensure that the bag is made to your exact specifications. You can find more information about this process in the
additional information section.
The Italian-made high-quality suede leather used for this bag promises both durability and style, with a similarly leather-lined interior. Link to FAQ
Starting price: $1,900.00
Black Friday price: $1520.00
Important note:
When you pre-order, you are able to pay 40% of the total cost upfront. This means you can reserve your item before its release and pay the remaining balance later.
Free shipping for US and Canada
Additional product info
How to Exclusive UniUkiyo - leather bag/jacket
Faq
Additional product info
Important notice!
• Please note that the colors you see on this device may be slightly different on the leather your bag is made from. During your consultation for a custom bag, we will carefully select a color that complements your personal style.
• The waiting time for your exclusive Leather Bag is 3-4 weeks.
• Custom bags with personal measurements can't be returned!
How to Exclusive UniUkiyo - leather bag/jacket
Faq