Make a stylish statement in the professional world with designer leather briefcases. These accessories offer practicality and exude confidence.
Choose from a range of features and sizes to find the perfect briefcase for your needs. Discover top brands, styling tips, and the benefits of investing in a statement piece to stand out from the crowd.
The History of Designer Leather Briefcases
The history of designer leather briefcases traces back to their transformation from basic document holders to stylish accessories driven by professionals' evolving needs and technology's impact.
Initially, briefcases were simple, rectangular, and made of leather or canvas to carry documents. However, with technological advancements, briefcases adapted to accommodate laptops and tablets. Sleek designs emerged, featuring dedicated compartments for electronic devices.
Luxury designer leather briefcases then entered the scene, adding a touch of style to functionality. Today, these briefcases cater to diverse preferences, offering various styles and sizes.
Technology's influence continues to shape designs, incorporating features like USB ports and wireless charging capabilities. Ultimately, designer leather briefcases have become a symbol of innovation and professionalism, reflecting professionals' desire for both fashion and function.
Features to Look for in a Designer Leather Briefcase
When choosing a designer leather briefcase, consider the available styles and how they align with your professional image.
Focus on quality leather that's durable and long-lasting, as it adds aesthetic appeal and ensures longevity.
Practical features of a briefcase like size, compartments, handles, straps, and closures should suit your needs and keep your essentials organized.
A well-crafted briefcase can enhance your professional image and reflect your innovative spirit.
How to Choose the Right Size for Your Needs
To choose the right size for your needs, assess the quantity of items you carry daily. Consider your laptop, documents, and other essentials. Choose a size that accommodates all your belongings without being too bulky.
When selecting a briefcase, also consider the look and style you want. A smaller briefcase gives a sleek vibe, while a larger one conveys authority. Think about the impression you want to make and choose accordingly.
Besides size, consider the right color and materials for durability. The color should complement your style and match different outfits. Classic colors like black, brown, or navy are safe choices, but don't be afraid to experiment with bolder colors.
For materials, opt for high-quality leather that's durable and stylish. Look for briefcases made from full-grain leather, known for its strength and longevity. This leather ages beautifully over time, giving your briefcase a unique appearance.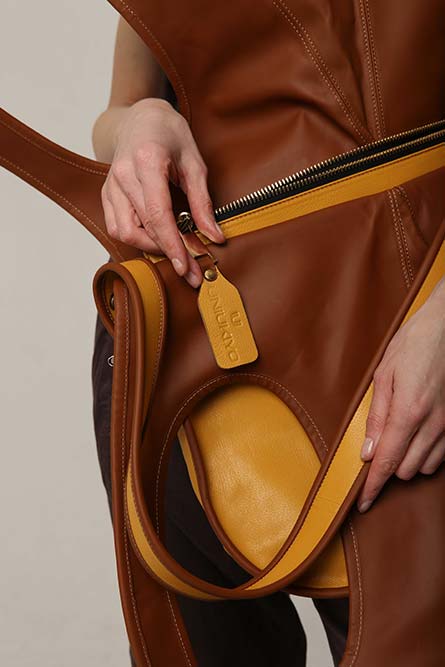 Top Designer Brands for Leather Briefcases
Montblanc is a top designer brand for leather briefcases, known for its craftsmanship and attention to detail. They've been a leader in the luxury goods industry for over a century. Montblanc's leather briefcases combine functionality with timeless style.
They offer a range of briefcases to suit professionals' needs. From sleek designs to more organized options, their collection caters to various preferences. The briefcases are made from high-quality leather, ensuring durability.
Other top designer brands for leather briefcases include Louis Vuitton, Gucci, and Prada. These brands are renowned for their innovative designs and luxurious materials. They incorporate modern elements like technology compartments and adjustable straps.
The current leather briefcase trends focus on versatility and functionality. Professionals seek briefcases that transition seamlessly from the office to after-work events. Convertible briefcases that can be carried as a handbag or worn as a backpack have become popular.
Styling Tips for Pairing Your Briefcase With Professional Attire
Choosing the right briefcase color is crucial for a strong workplace impression. Opt for timeless neutral tones like black, brown, or navy to complement any professional attire.
Add personality with bold hues such as burgundy or deep green. Consider alternative bags like messenger bags for a casual and contemporary look, or sleek backpacks for professionals on the go.
The Benefits of Investing in a Designer Leather Briefcase
Investing in a designer leather briefcase enhances your professional image and showcases your impeccable taste. These briefcases offer unmatched quality craftsmanship, with meticulous attention to detail and luxury. They're durable, built to withstand wear and tear, and made from high-quality leather.
Busy executives and stylish entrepreneurs benefit from both the practicality and statement-making ability of designer leather briefcases. These briefcases not only carry your documents and gadgets but also leave a lasting impression on others. Investing in one is a smart choice that pays off in style and functionality, making a lasting impact on your professional image.
Elevate your professionalism and attention to detail by choosing a designer leather briefcase. It's an investment that will last for years to come while speaking volumes about your professionalism and personal style. Don't settle for less when it comes to showcasing your success and sophistication.
Choose a designer leather briefcase that reflects your unique style and elevates your professional persona.
Caring for Your Designer Leather Briefcase: Dos and Don'ts
To keep your designer leather briefcase looking great, you need to follow a few dos and don'ts.
– Avoid harsh chemicals and use a gentle leather cleaner instead.
– Moisturize the leather with a high-quality conditioner to prevent cracking.
– Store the briefcase in a cool, dry place to avoid damage.
– Fill it with acid-free tissue paper to maintain its shape.
– Handle the briefcase carefully and avoid overstuffing it.
Conclusion
A designer leather briefcase is more than just a functional accessory; it's a statement piece that showcases your professionalism and style. Its rich history, top-notch features, and diverse range of sizes and brands make investing in one a smart choice.
Not only does it elevate your professional attire, but it also stands the test of time with proper care. So, go ahead and make a statement with a designer leather briefcase that exudes elegance and sophistication.
It's not just about functionality; it's about making a bold statement about your personal and professional identity. Upgrade your style game with a designer leather briefcase that speaks volumes.