Choosing the right leather bag for men can make for a perfect mixture of sophistication and practicality in your accessory.
Whether you're a businessman on the go or a trend-conscious individual, a leather bag is the perfect choice.
In this article, we'll guide you through the process of choosing the perfect leather bag for men.
From different types of bags to essential factors to consider, we'll help you make a stylish and practical choice that reflects your innovative and sophisticated taste.
Types of Leather Bag for Men
First, consider the different types of leather bags available to you as a man. When it comes to business bags, opt for a classic briefcase or a sleek laptop bag. These bags are designed to hold your work essentials and exude professionalism. Look for features like multiple compartments and padded laptop sleeves for added functionality.
For a more casual leather bag, consider a messenger bag or a backpack. These styles offer a more relaxed and laid-back look, perfect for everyday use or weekend outings. Look for bags with adjustable straps and plenty of pockets to keep your belongings organized.
Whether you're heading to the office or going out with friends, there's a leather bag that suits your needs and style.
Factors to Consider
When choosing the perfect leather bag for men, there are several important factors to consider.
To achieve a sophisticated style, it's crucial to choose a bag that complements your overall aesthetic. Consider the bag's design, color, and hardware details to ensure it aligns with your personal style.
Additionally, practicality is key when selecting leather accessories. Look for a bag that offers ample storage space for your daily essentials, with well-organized compartments and pockets.
A durable and high-quality leather material is essential to ensure longevity and functionality. Pay attention to the bag's construction and stitching, as well as the quality of the leather used.
Choosing the Right Size for Leather Bag for Men
To ensure the perfect fit for your needs, consider the dimensions and capacity of the leather bag. When choosing the right size, it's essential to strike a balance between functionality and style.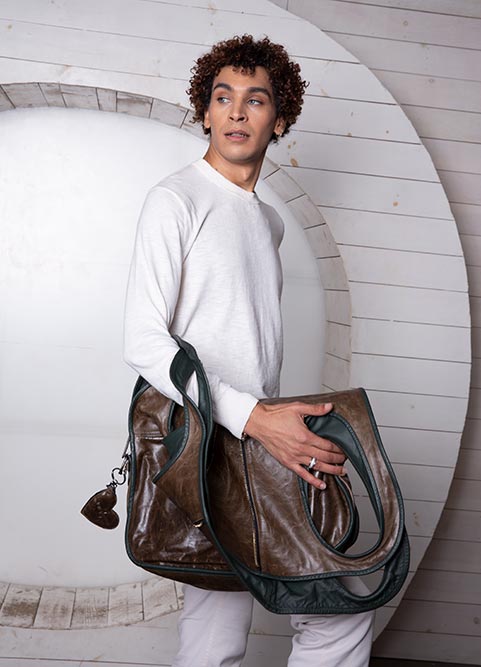 A bag that's too small may not be able to accommodate all your essentials, while one that's too large can look bulky and unprofessional. Look for a bag that's spacious enough to hold your everyday items, such as a laptop, documents, and personal belongings, without being overly bulky.
A good way to determine the right size is to consult style guides that provide recommendations based on your professional attire. This will ensure that your leather bag not only meets your practical needs but also complements your overall style in a sophisticated and fashionable way.
Stylish Design Features
Consider incorporating stylish design features into your leather bag that enhance both its functionality and aesthetic appeal.
When it comes to men's leather bags, the right design elements can elevate your style while also providing practical benefits. Look for bags with clean lines and minimalistic details for a sleek and modern look.
Opt for features like multiple compartments and pockets to keep your belongings organized. Additionally, consider bags with adjustable straps or handles for versatility and comfort.
Innovative design features such as hidden pockets, RFID-blocking technology, and USB charging ports can also add convenience and security to your bag.
Choose a bag that reflects your personal style and incorporates these stylish design features to ensure that you not only look fashionable but also have a bag that meets all your functional needs.
Care and Maintenance Tips
To ensure the longevity and pristine condition of your leather bag, it's essential that you properly care for and maintain it. Here are some care and maintenance tips to keep your bag looking its best.
– Always store your bag in a cool and dry place, away from direct sunlight, as excessive heat and sunlight can cause the leather to dry out and crack.
– Use a leather conditioner regularly to keep the leather moisturized and prevent it from becoming stiff.
– When cleaning your bag, use a soft cloth or brush to remove any dirt or stains, and avoid using harsh chemicals or abrasive cleaners that can damage the leather.
– Be mindful of how you use your bag and avoid overloading it with heavy items, as this can strain the straps and cause unnecessary wear and tear.